A new page.
Our hearts filled with emotions and memories, it is with great passion and a bit of sorrow that we are reaching today the sunrise of a new era for OG CS:GO. Issa "ISSAA" Murad and the team have mutually decided to part ways after almost fifteen months spent together.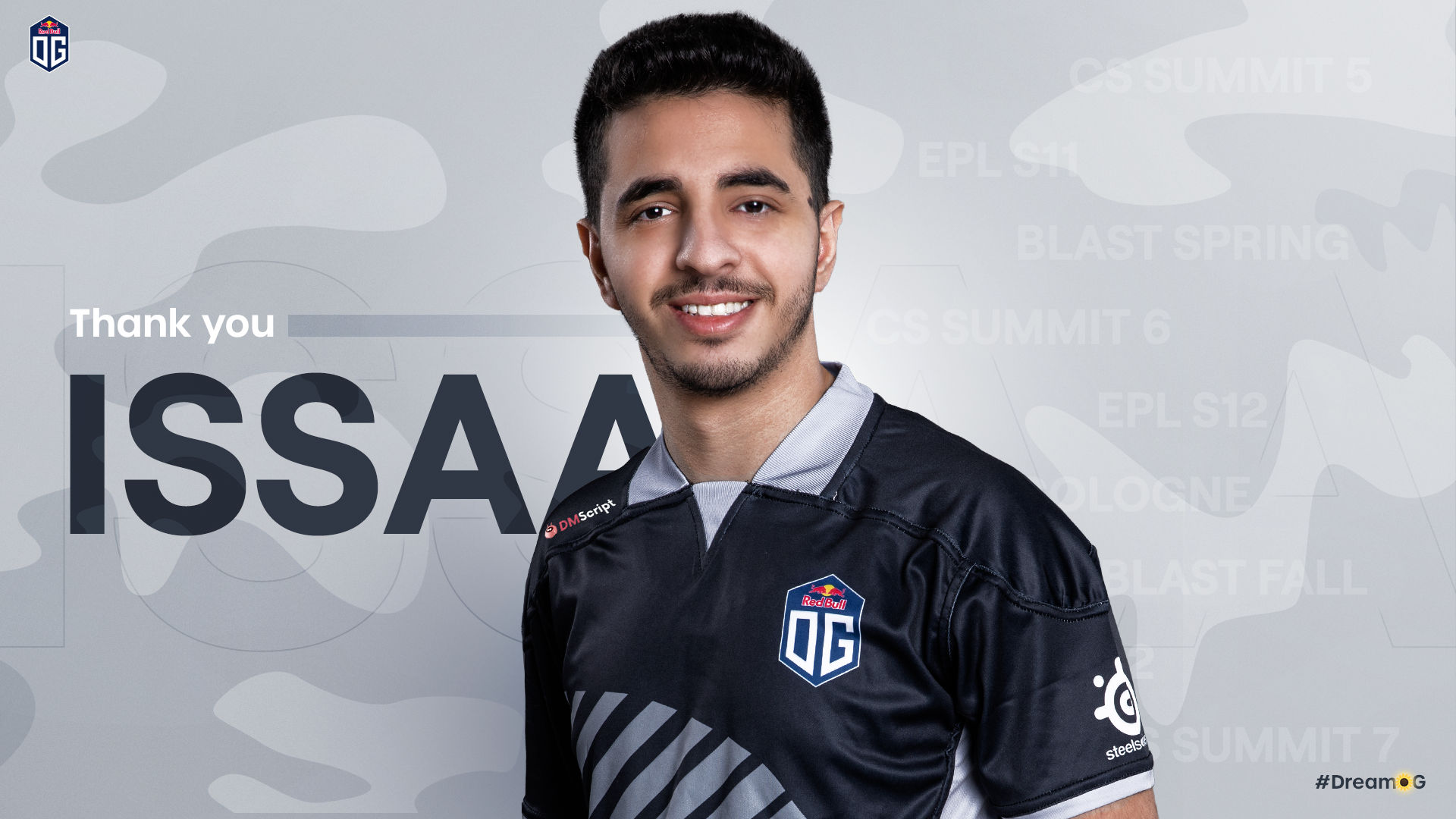 During this last year, ISSAA has become one of the most recognizable faces of the pew pew boys thanks to his professionalism, his determination and his iconic festive mood. Unfortunately, the team has gone through hardship for the past few weeks and this mutual decision happened after our early exit of the ESL Pro League Season 13.
We would like to thank ISSAA for his unmatched commitment to the team, despite playing under such challenging circumstances from home. We will actively be working with him to make sure the Beast from the East finds his new perfect home as soon as possible to see him back on the server in no time.
Entering the rebuilding phase. 
With our next event scheduled for mid-April, OG CS:GO is now entering an internal rebuilding phase. Tryouts will occur in the next few days to find out the two missing warriors who will be wearing our colors in the forthcoming future. The objective remains the same, reconquer the top of the world ranking and establish ourselves up there among the biggest names of the kingdom.
Casper "ruggah" Due (OG CS:GO coach):
"Today we're announcing that we've decided to bench ISSAA from the starting lineup in OG. It's a decision that we've taken with a heavy heart because ISSAA is a well-respected and loved person within the team who always gave his best in the team's interests, and did whatever was asked of him. After evaluation over time, it became clear to both parts that for ISSAA to flourish and OG to keep improving, changes were needed and these paths had to continue separately. I'm a bit sad we couldn't give ISSAA the optimal situation to bang heads, since he has proven throughout his career that he is a player capable of challenging the very best on the server. We are going to miss ISSAA and everyone in OG wish him nothing but the best moving forward"
Johan "N0tail" Sundstein (OG Co-founder):
"There are very few players with the extraordinary ability of making everyone around them happy, and ISSAA is one of them. Always optimistic, always positive… Fantastic teammate and even better person. Farewell friend, and I'm sure we will get to see you again!"
Sébastien "Ceb" Debs (OG Co-founder): 
"In OG we have always believed in the power of friendship and the emotional aspect of the competition. We are forever grateful to ISSAA for being one of the founding members of OG CS:GO and for what he has done for this organization and his teammates. Best of luck in the future, and I hope that you have enjoyed these wonderful 15 months together"
JMR Luna (CEO of OG Esports):
"Esports can sometimes be a complicated business. But players like ISSAA are the reason we all wake up early every day and try our best. Thank you so much for always being nice to me and to us, for being a true professional and a wonderful human being. I really hope we stay in touch! Best of luck :)"
While we're fully aware that the wait is getting longer and the expectations higher, be sure that we are taking the necessary extra steps to ensure OG CS:GO 2021 will be a top contender for the remaining of the year. Please, stay tuned for further announcements!
#DreamOG