Sometimes choices hurt, sometimes they are necessary.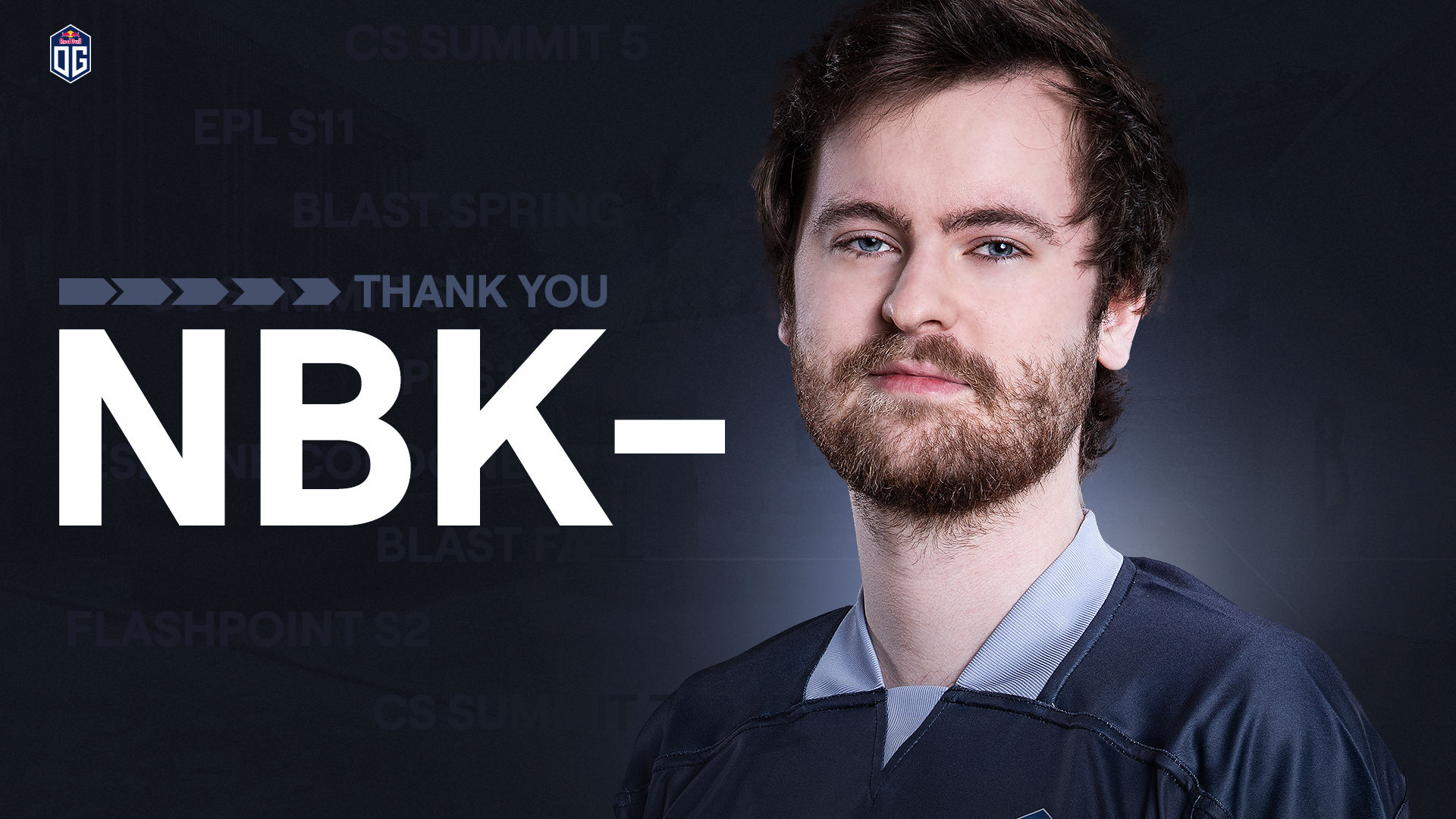 Today, it is with a heavy heart that following long discussions within the OG CS:GO team, we are announcing that Nathan "NBK-" Schmitt has been withdrawn from the active roster.
The early 2021 results have been quite rough on us, and the team felt the need for a re-adjustment to keep moving forward in its quest to its first trophy. Rare are the squads who don't undergo difficult changes after such a long period of time sticking together. The team has decided that bringing in a breath of fresh air could be the required step to bounce back.
For 15 months now, including the troubled times caused by the pandemic, our French Kingmaker has been an absolute pleasure to work with, confirming more than ever his legendary status. He once again proved himself as a tireless hard-worker whose passion for the game is still burning even after winning it all multiple times. Building an international roster from scratch raised several eyebrows back in December 2019 and nobody expected us to reach world's ranking #6 within our first year of existence. That said, Nathan will always be remembered as a part of it.
At OG, we will be forever proud of what Nathan accomplished under the Sunflower banner and grateful for everything he made possible. One thing is certain, his deagle killing spree against EG or his flying 1on2 against G2 are still vivid in our blown minds. Thank you Nathan for the unforgettable memories. You wrote a page of OG's book.
"Throughout his very successful career, NBK has continued to demonstrate his ability to transform and improve every organization he has been in, elevating and bringing a need for excellency in every thing he does. For 15 months at OG we all gave it our best, and unfortunately sometimes changes are necessary. We want to thank Nathan for his devotion to us, to his teammates and for his passion for the game and competition. You will be missed."
Sébastien "Ceb" Debs, co-owner of OG Esports
"Playing at the highest level of competitions is hard. Very hard. Especially in a game as competitive as CSGO. There is a reason why NBK has had this incredible career. His unbreakable will, his work ethic and love for the game. This is a testament to who he is as a person and why we wanted him to be part of OG. Thank you for everything you have done and best of luck in your next adventure!"
Johan "N0tail" Sundstein, founder and co-owner of OG Esports
"Nathan is an incredible competitor and teammate. For 15 months he gave his everything to OG and this project and we are very proud of what we achieved together. I want to personally thank him for being great to work with, and for always going the extra mile with the staff, with content and with anything I ever asked of him. You are a true professional inside and outside the server and any team would be luck to have you.Thank you Nathan"
JMR Luna, CEO of OG Esports
Huge thanks to NBK for his professionalism facing this tough decision. As he currently stays under contract with OG, we are looking to make his transition the smoothest possible and hope his future will look bright. He definitely deserves it.
You are now wondering what comes next for OG CS:GO? Replacing such a legendary player isn't an easy task and will require a bit of time to figure out our best options. Stay tuned, stay safe and be sure the pew pew boys haven't said their last word just yet!
#DreamOG