Attention OGs ????
If you want to know where to find both the Dota 2 and pew pew boys for the upcoming competitive month, bear with us :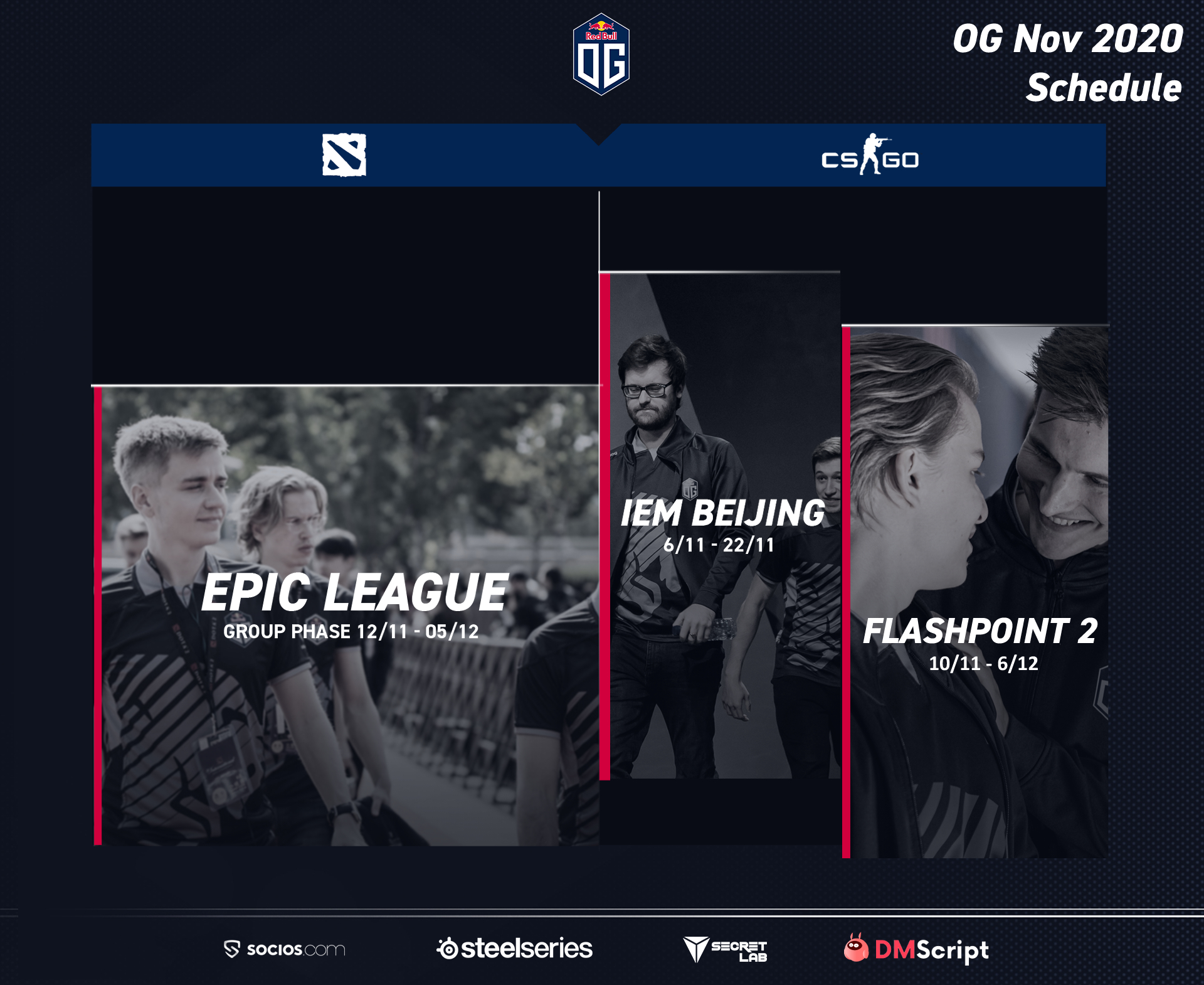 DOTA 2 
Nov 12th – Dec 5th : EPIC LEAGUE Group Phase | The squad enters a new challenge. 

You followed us online since the beginning of the online tournaments, this one will be the biggest of the end of this year.
A new bloodbath gathering familiar faces, friends and foes altogether.
After reaching the finals of the first season against Secret, the boys are ready for a fresh run.
The best teams in EU and CIS will be battling for a 500 000$ prizepool this time, no mercy will be shown.
EPIC LEAGUE English stream link : https://www.twitch.tv/beyondthesummit
CS:GO

Nov 6th –  Nov 22nd: IEM Beijing Europe | Our pew pew boys face the world's best
$150,000 & 1,445 EPT points – 16 teams – GSL group stage & single-elimination playoffs
Last time we entered an IEM event, we only exited it after the grand final. It was only a month ago as we managed to reach the grand final of IEM New York Europe after beating the likes of FaZe, BIG and fnatic. This time, the tournament will be twice bigger and half of the 16 participating teams come from the World Ranking's top 10.
Crucial ESL Pro Tour points to grab in order to qualify for IEM Katowice 2021. Also a spot in IEM Global Challenge for the sole winners. You don't want to miss it.
IEM Beijing English stream link : https://www.twitch.tv/esl_csgo
Nov 10th – Dec 6th: FLASHPOINT 2 | Banter & Bangers
$1,000,000 & 7,501 BLAST points – 12 teams – GSL group stage, last chance stage & playoffs
It's with a great honor we joined the wonderful Banter Kingdom of FLASHPOINT where emphasis is placed on the show. Not only do you need to train your aim to click some opponents' heads but you must get into them! We can't wait to begin the already legendary drafting phase where the groups composition will be decided by the teams themselves! 
We'll be starting this event with a favorite status alongside BIG, Virtus.pro but also fnatic and Cloud9. The simple life of a world top 10 team, right?
Hands are being warmed-up and punchlines sharpened! You got it, the show will go on. 
FLASHPOINT English stream link : https://www.twitch.tv/flashpoint
Stay safe OGs, and make sure to cheer for our boys during this stacked month!
#Dream OG ????