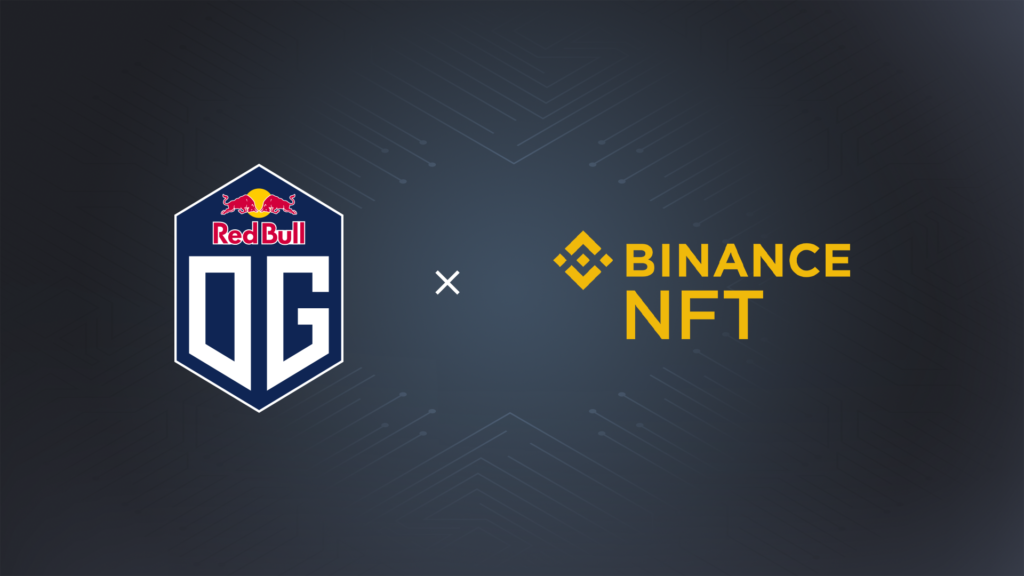 OG Esports to host their newest NFT drop exclusively with Binance NFT

Following the first two very successful NFT drops, OG Esports is excited to announce that they will be releasing their third drop exclusively in collaboration with BInance NFT, the NFT marketplace of the world's largest cryptocurrency exchange platform. This will be the first NFT drop for Binance NFT as Binance enters the world of Non-Fungible Tokens with their new marketplace, Binance NFT, on 24th June 2021.
With this premium drop scheduled for 28th June 2021, OG Esports continues to innovate and trailblaze the world in Crypto and NFTs, paving the road for the industry to follow and opening new sources of revenue generation. OG Esports was the First Esport organization to launch a Fan Token with Socios.com ($OG), the First Esport organization to Launch their Fan Token on Binance, the First Esport organization to successfully launch NFTs and with great success, and now… OG Esports will be the First Esport organization to ever join Binance NFT Marketplace and an inaugural premium member.
For this special launch, OG Esports has partnered up with a pair of fantastic artists, Jonathan Plesel & Thibault Zeller from Ambre Collective, to bring together their most ambitious project. A combination of technology, artistry, and… exclusive rewards.
JMR Luna, OG Esports CEO:
I am very proud that Binance.com chose OG Esport as their first Premium Esport drop for their new venture into NFTs. This is a testament to the great work we have been doing in the organization, and in the world of NFTs and Fan Tokens. We have been working with Binance since December 2020, and they have been great to work with, and we are confident that this will be one of the many projects we will do together.

Manon Merloz, OG Esports General Manager: 
Following the learnings of the last two drops, I feel that we have been able to put together a stunning product for a great launch. For this story OG has worked together with Ambre Collective, a french duo consisting of Thilbaut Zeller and Jonathan Plesel. Together with Kevin (OG Head of Brand) they've worked closely to create these elaborate NFTs to celebrate the launch through a fantastic story. We are grateful for the Binance NFT team and their incredible work, passion and dedication through this journey, and we can't wait for everyone to see the drop!
Kevin  Avegard, OG Esports Head of Brand:
"Having such a reputable brand as Binance on our side in our NFT adventure feels incredible. As we move forward in our creative initiatives we will keep working hard and connect with talented artists to tell the story of the OG brand. Art fills different roles for many of us, be it creators or beholders, and with the support from Binance and its platform we feel like it will bring us to another level. This allows OG and creatives to share an artistic showroom that is ready to be shared with the world."
Binance:
Helen Hai, Head of Binance NFT, says "The gaming market has a lot of potential and the blockchain gaming industry has grown alongside the NFT industry. Now gamers can use native currencies within games to generate and collect NFTs that can be re-used or sold later. We believe that OG can play a significant role in making disruptive innovations with the gaming and NFT industries."
Don't forget the date of our next drop, June 28. That's when you'll be able to complete your collection with our new NFT series.
#DreamOG