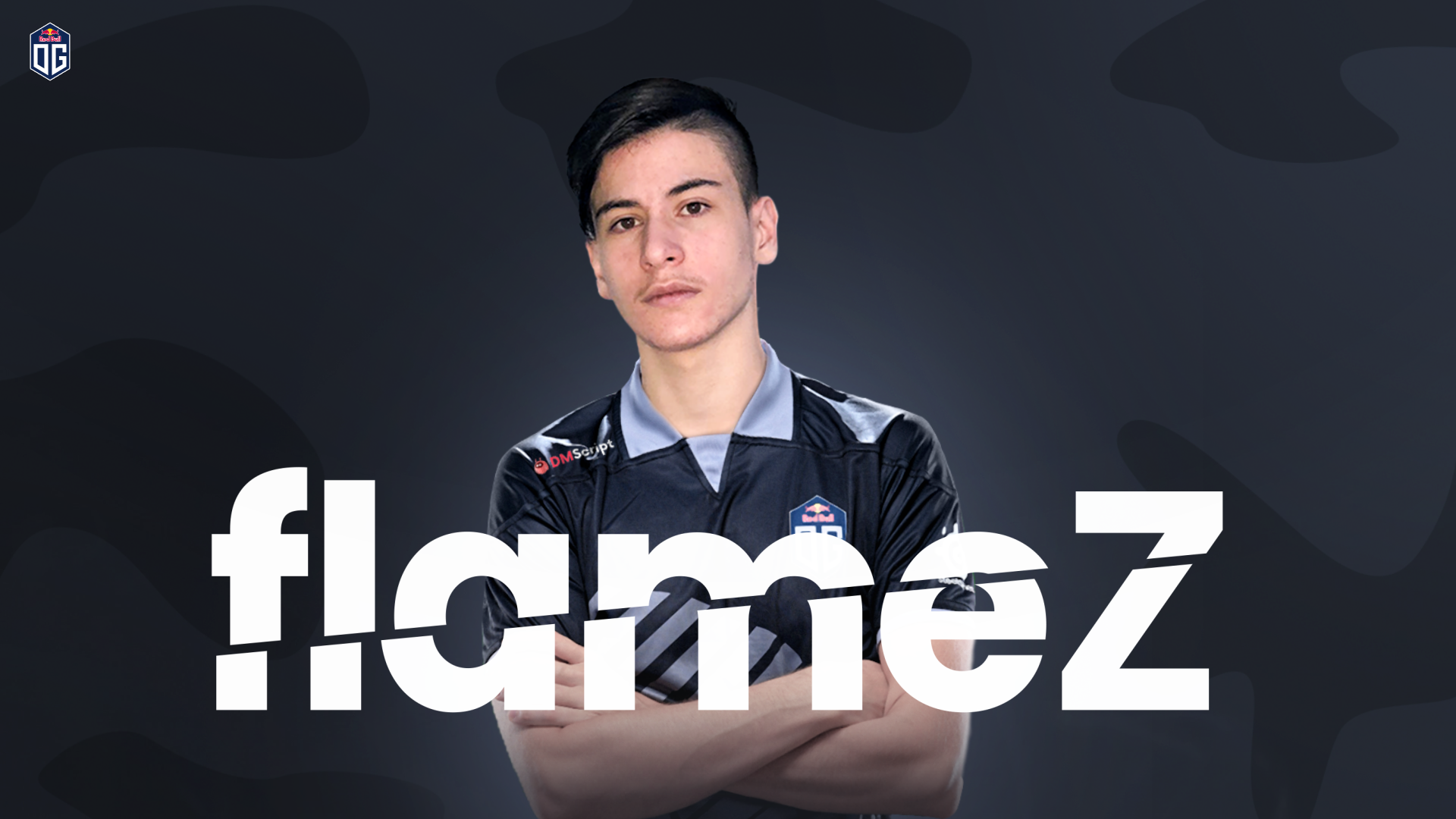 At OG, supporting legends in the making is perhaps the most interesting and exciting part of what we get up to every morning. Young prodigies always fascinate with their precocious, natural talent. To blossom at the highest level however, they need to be surrounded by the right people, those capable of making the most of their unlimited potential.
When Ceb and N0tail gave his chance to a young unknown Finnish talent named Topson to play in The International 2018, the world did not expect him to bloom into one of the most skilled mid players on the planet. When Aleksib and NBK approached mantuu back in 2019, history repeated itself. Who could have imagined that he would end up as one of the best snipers a few months later?
Today, we are extremely proud to welcome one of the World's greatest upcoming players among our CS:GO division : Shahar "flameZ" Shushan.
At only 17 years old, the Israeli rising star has already left many in awe during his rookie year at the professional competitive level and is now regularly mentioned as the player to keep an eye on in 2021. And guess what, you will have to turn your attention towards OG CS:GO to witness his upcoming achievements.
Under Aleksib and ruggah's leadership and with the help of the firepower of valde, mantuu and niko, we believe we have found a perfectly balanced environment to nurture his incredible talent. More than ever, the pew pew boys will mix experience, intelligence and recklessness in their renewed journey for excellence through our reborn OG CS:GO roster.
"I'm really excited and ready for this great opportunity to play with such great leadership  and experienced players. I will do my very best every day to show I deserve it. One of the most important things is to get some trophies! Really excited and let's make it wild! #DreamOG"
Shahar "flameZ" Shushan

"We are very glad to welcome Shahar in the OG family. Last season was an amazing first chapter for OG in CS:GO, and I sincerely want to thank Nathan and Issa again for everything they brought us.
With Nikolaj and Shahar now joining the roster, we are confident that we can keep pushing the team towards the highest levels of Counter-Strike. Shahar is an amazingly talented young player who already understands what it takes to perform at the highest level, and we will do our best to offer him the right tools to bloom even more this season.
The team is now eager to start competing with him. So let's dream OG".
Charlie Debs (COO & Co-owner of OG Esports)

"The organization has done a great job in finding the last piece of the puzzle for our team. I want to thank everyone who has been working hard to make it happen in a very short notice. I see in Shahar a great desire to play and develop and I am glad that from now on he will begin to reveal his potential in our team. Welcome!"
Vladyslava "Vladyslava" Zakhliebina (Manager of OG CS:GO)
"We have been tracking Shahar development for some time, and it's undeniable that he is a very special player. He is very young, he is incredibly talented, he is hungry, and we think he will bring a lot of happy memories for this organization.
Welcome to the OG Family!
We are very happy to have you! Aleksib, valde, mantuu, niko and now flameZ… Ohhh… This is going to be a really fun year!"
J.M.R Luna (CEO of OG Esports)
OG CS:GO 2021 will consist of:
Aleksi  "Aleksib" Virolainen
Valdemar "valde" Bjørn Vangså
Mateusz "mantuu" Wilczewski
Nikolaj "niko" Kristensen
Shahar "flameZ" Shushan
Coach: Casper "ruggah" Due
Manager: Vladyslava "Vladyslava" Zakhliebina
We can feel the excitement in the air and, well, you are not alone! We can't wait to see our CS:GO squad back on the server. Make sure to turn on the BLAST Premier's stream next Tuesday as we will compete in the BLAST Spring Showdown alongside some of the best teams in the world.
Time to click some heads!
#DreamOG