Alright OGs, we swear we're really not trying to make you all have a heart attack. But as Ceb says it himself, "All good things come to an end, so they say. I know that sentence usually symbolizes nostalgia, sometimes even sadness, but I see more into it. Every beginning of an era comes with a big change that marks the end of the previous one."
Yes, you've read it right. Ceb has decided to remove himself from the active OG roster. We'll let him explain.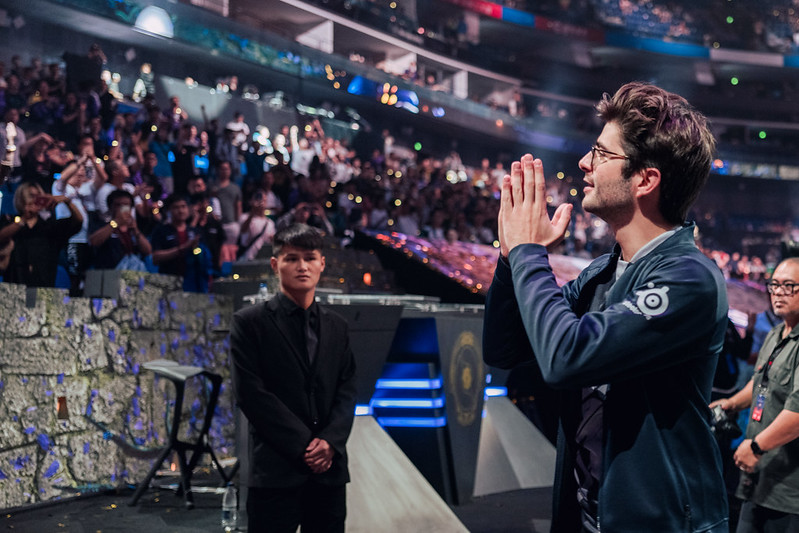 "The journey of OG throughout competitive esport started many years ago. Today is it with pride that we witness how much all of that legacy means to people around the world. It's much more than results, memories or achievements, it's before anything else values, principles and beliefs. These things were the foundations for the back-to-back TI winning roster. It all started first half of 2018, with the infamous OG/EG split.
When I decided to  write this text, I went back to the blogpost I did after Fly and s4 left us : https://7ckngmad.wordpress.com/2018/05/28/changes-to-og/. Reading through it today, I guess we had the right look on what the future had in store for us.
Changes are healthy, perhaps even required. It has been one hell of a ride. Ever since ana and Topson joined us, DotA has never felt the same again. I believe we've built the best team in DotA, I am very convinced of that.
We played as underdogs, played as favorites. We competed with the hunger and the fire of the uprising teams, and we competed with the confidence of the defending champions. It truly feels like we went through most of what competitive DotA had to offer.
The grind to the top is quite something, the sacrifices that it requires are costly, undoubtedly. At OG we have always believed in the strive for excellence. It is one of the core values of the OG spirit. We ask the very best from each other, in every given moment. Therefore, we also give a lot of importance to the mental side of things. People are intrigued with our infamous "off-season", in which we skip the first major tournaments of the year. Some believe it's a disguised strategy, others guess we're enjoying the fruits of our hardwork. Truth be told, its neither. We simply believe that competing at the highest level, giving each other the very best we are capable of requires the purest form of motivation, it requires an infinite drive. At the start of your career, you take that fire for granted. But as time goes by, and as you get closer to your goals and dreams, you start realizing that this very fire requires attention and protection.
Therefore, we give each others time to reflect on our respective careers, and to prepare for the upcoming season. That reflection can obviously have different outcomes. And even though last season came with no changes, this one turned out different. Ana feels like he requires more time away from competition, and Jesse decided to quit professional DotA2. As much as I am sad that this 5-man roster will never be competing together again, I am also truly happy that they were strong enough to make that decision.
What this roster achieved will eternally be happy memories.
The end of an era marks the beginning of another one, and with that being said, it is time to look at what the future holds for us.
I guess it is time for me to shed more light on what my plans are. I've always chased challenges, one after the other. High level competition is the environnement in which I strive, and I've also come to realize that pursuing an objective with a group makes it even more exciting.
DotA has given me so much, more than I could ever have hoped. Once a player, once an analyst, once a coach, and once a two times TI winer. Looking back at it I would never have been able to guess any of it.
I feel like it's time for me to find ways to give back. I see players around me with incredible talent and infinite drive. I want to help them achieve their dreams and find the success I believe they rightfully deserve. Making this whole thing about my own personal competitive goals leaves me with a bitter taste.
Johan and Topias are looking at their third title, and so am I. I will be alongside them once they lift the trophy again. As usual, I'll do what ever it takes to see the group succeed, and that sometimes means sacrificing some of your own personal targets.
It is time for me to take a step back, and remove myself from the active roster. I will be taking a role within OG in which I will be able to help all teams and players with increasing their performance. Whether it is DotA or CSGO, OG is now a home for great champions to come.  I'll be able to put my experience to even better use alongside these talents. I do not want this to sound like a definitive retirement, even though it could very well end up being it. I love the surprises that comes with life, therefore I'll always keep every door open.
I'll keep flexibility when it comes to which field I'll be focusing on, depending on teams needs. I am blessed to be surrounded with great people, such as my dear friend Sockshka. We're building a great staff around teams, so that the experience acquired lives forever.
The upcoming competitive challenges for OG, as a whole, are going to be tough ones, thankfully.
I want to thank everyone that contributed to this journey, whether within or outside OG. A lot of you call the back-to-back the generation of miracles, which I've learned is a reference to an anime. There were no miracles in our runs, just hard work and kindness towards each other. If there were any miracle, it would be how supportive you've all been this entire time. I know it's a lot of changes, and probably too much to cope for you OGs, but as you trusted us in the past, do so again. Bear with us, because the future has never been brighter.
Love you all,
Ceeeeeeeeeeeeeb!"
We know you might all have a lot of questions by now.
Make sure to be there for True Sight on the 28th of January at 7:00 CET, as well as our OG Night show the next day at 8:00 CET (https://www.twitch.tv/redbull/) to share these #DreamOG moments with us.
We PROMISE you'll get answers. See you there OGs.