A chapter closes, a new one is just starting.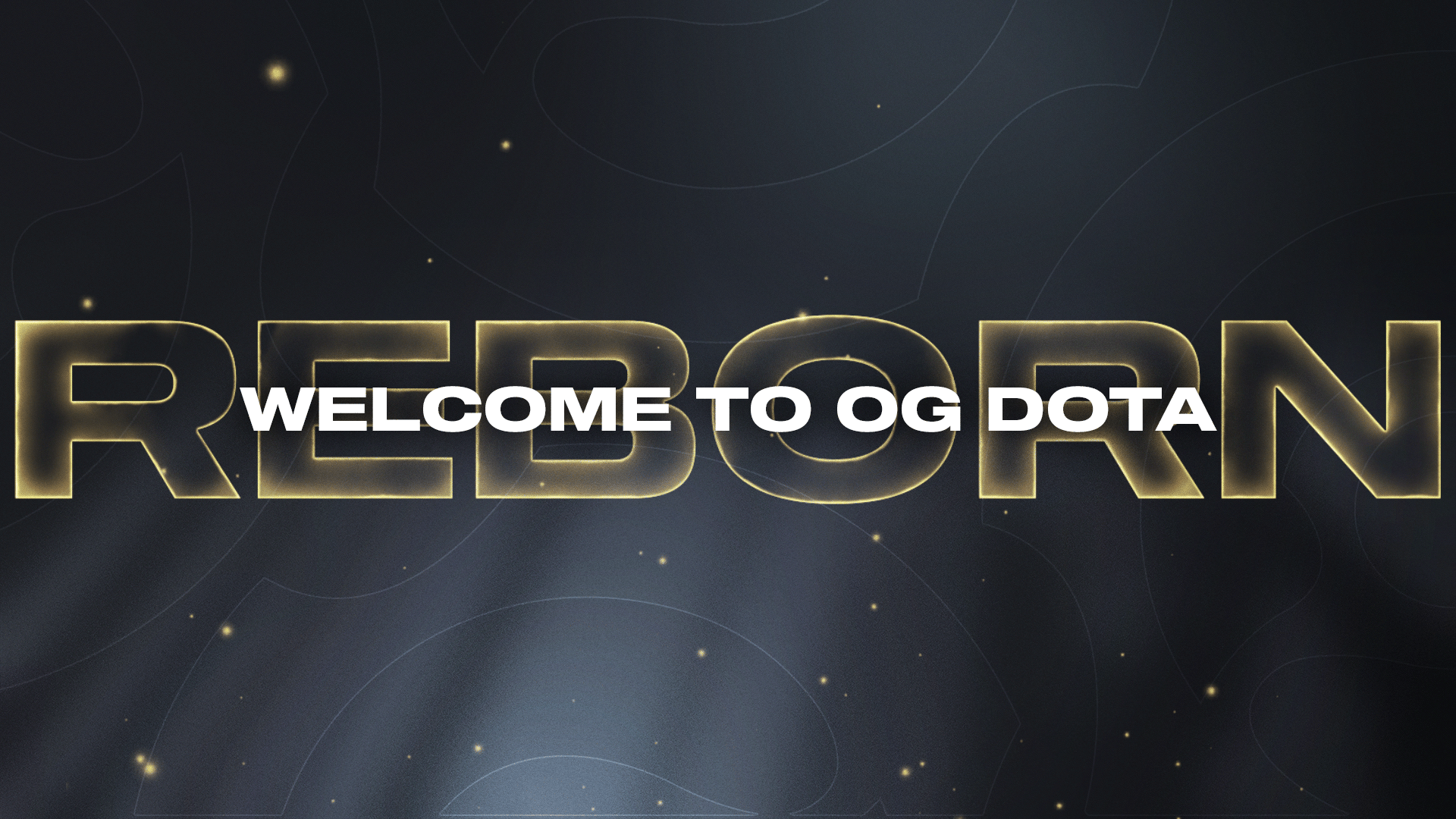 Right after TI10, we realized that for the first time since OG's inception. After 6 incredible years, we would have to build something very OG without any of the OG players. We all sat down together to see how we would solve the puzzle. How do we build a new winning roster? What are the elements that even make a winning roster?
1st –  Raw skill. They have to be really good at Dota.
2nd – Passion and hunger. The players need to be hungry and passionate about the game.
3rd – They need to become a solid and united team. If there is something that we have all learned from the last TI winning teams, it is that teams don't need to be built out of superstars. That they will become superstars together. But they need to love competing. They need to become friends, they need to have fun being and playing together. 
The answer was simple: Go with young talent, and build the next generation of Dota players. We have been quite open about our wishes to support new talent, and we have had several initiatives in the past that prove it. And at the end of the day, the N0tail and Ceb duo are also notoriously responsible for bringing current idols to the scene such as Miracle, Cr1t-, ana, Topson and so on.
This complicated puzzle became more of an incredible opportunity. The opportunity to build something with new players and bring freshness into the Dota scene. The question then turned from "How do we do it" into "Who do we believe in". Who are those players that are incredibly talented but maybe need their first big opportunity to shine?

After a lot of hard work and endless weeks of research, please join us in welcoming OG Dota 2022:

Artem "Yuragi" Golubiev (formerly spAce)
Bozhidar "Biziem" Bogdanov (formerly Hansha)
Ammar "Ammar The F" Al-Assaf (formerly ATF)
Tommy "Taiga" Le 
Mikhail "Misha" Agatov (Captain)

HARD SUPPORT – Misha (24 years – Russia)
Misha came to OG as a coach after the last DPC season of 2021. OG had just fallen short from qualifying to the AniMajor, and we felt that we needed help. Ceb approached the team with the idea of bringing this CIS kid that he knew and really liked. We were all very receptive. We had one more chance to qualify to TI10, one more chance to fight for our title. 
The next day, Misha took on the Head Coach position, and immediately started working with Socks, Ceb and N0tail. The change was immediate. He instantly had a transformative effect on the team and everyone around. He brought with him a very stable training routine and discipline, and he refilled the team with good spirit and kindness. With hope. 
And he delivered. He was instrumental in us qualifying to TI10 and key to the team we became. In only a few months with Misha, we got to see that he was undeniably the perfect candidate to lead the new OG. After TI10, he approached us and told us that he was very motivated, that he wanted to play and asked us for the opportunity to show what he could do. We unanimously decided that Misha was the way into the future, and that we would be here to help him transition.
"Quite rarely you find people that are competent in many fields. He is a very quick learner. We saw how he was with us, and how much he learned in a very short time. Misha is a fantastic Dota player, mind and leader." – N0tail
"He is a very nice person and he has a very good heart. He cares about people around him and he cares so much about the game. This is a winning recipe. He is smart, talented and willing to learn. What else can you ask? I can safely say that without him we would have not qualified to TI10. He came in, helped us clear all the confusion, helped us get much smarter about a lot of things. Misha has all it takes and I believe in him and I will be there for anything he needs to help out." – Ceb 
SUPPORT – Taiga (23 years – Norway)
After deciding that Misha was going to be the captain and position 5, we sat down with him and listened to his ideas & the players that he had in mind for the new roster. He could really see what Taiga could bring to the table. We really liked the pair of Misha and an experienced support that could help him lead and guide the younger players. 

We believe that Taiga is a perfect fit for OG. Not only is he a fantastic position 4, he is a very kind hearted, thoughtful and compassionate person. He is going to bring a lot to this roster and we are delighted to have him join us this season. 
"Taiga is a great player, we all have seen that. But we believe Taiga's best dota is still ahead of him. He is just getting started" – N0tail
"Taiga is a very creative player, and a great person and teammate. When we told him our plans of rebuilding the team and playing with younger players, he became quite excited with the possibilities this would open up, and really bought into what we want to do. I am personally thrilled to have him in OG. He is the veterane really emotionally intelligent player that will help glue this team together." – JMR Luna
We would like to thank Team Liquid for working with us to make this transfer happen, and ULTI Agency for assisting in the signing of this amazing Norwegian talent.
OFFLANE – Ammar The F (16 years – Jordan)
From the beginning Misha and us knew the player we wanted for the offlane: Ammar. The beast from the East! Ammar is an extremely skilled and very aggressive player. When we interviewed him, we discovered a vivid, funny and hardworking personality. He reminded us a lot of a young 7ckingMad. We know that Ammar will not leave heads unturned and will very quickly become a fan favourite. Young – yes. But he wanted to be here, he was passionate about OG, and he has the potential to blossom into one of the best players of his generation. 
"We see Ammar in pubs all the time. Crazy kid. Very skillful. With a little guidance, I think he is going to be fantastic. I mean, he already is. But he will be even better! Is going to be fun watching him own safelaners" – N0tail

MID – Biziem (16 years – Bulgaria)
When we started looking for a midplayer, Ammar recommended us to really look into Biziem. And he was 100% right. The interview went very well, we immediately liked him a lot. After the talk, we called non-other than our own gigachad Topias, who instantly approved of Biziem as well.
"The younger the better. Beziem is really impressive. I got to see him last year with Creepwave and in pubs. And I think ATF is really good as well. I really like both. Young and motivated. Open to new ideas." – Topson
"When we met with Biziem and ATF together, it really gave us a lot of Monkey Business vibes. They are just so excited to play Dota, so passionate. And they had a very good friendship going on. Misha really connected with it. And the Dota part speaks for itself. Very happy to have them" – JMR Luna

CARRY – Yuragi (20 years – Ukraine)
And it finally came down to the carry position. Now as you may know, it has always been known to be a tough seat to fill in OG. We went through a lot of research and looked at a lot of young people who could match our criterias. After several rounds of tryouts, we decided that Yuragi (formally known as spAce) was the last piece of the puzzle we were putting together. On top of sitting very high at the leaderboards for a long time, Yuragi is a very creative and proactive player which is something we have always valued in a position 1 player in OG. Seeing these qualities in such a young mind instantly attracted us and we agreed to have him join this new OG project. 
"I really like Yuragi. He is good. I like how he sees Dota. How he understands it. I think he is going to be very good for us" – Misha
"For this position we wanted someone who had the versatility to play many of the heroes, and the drive to learn how to play them perfectly. We believe that we are going to have a lot of this CIS magic in the safe lane" – JMR Luna

We would like to thank Team Unique for working with us to make this transfer happen.
The Future
"Winning is a consequence, not an objective" – Ceb
This young team is gonna need time and nurturing. The only objective is to develop as a team and to do things the right way. Because winning is only the consequence of doing many many things right. Practicing the right way, playing with the right mentality, talking to your teammates the right way. The OG way.  
We will continue to bootcamp and live in Lisbon at the Sunflower house. N0tail will be with the team in Portugal to help bring direction and support.
We can all get excited as well. We are incredibly excited to have a chance to work with these guys, bring them the guidance they need and watch them bloom into a fantastic Dota squad.

We hope that you will join us in giving them a warm welcome. We will have the chance to witness their debut in the DPC season starting from November 29 next week, and see what the new flowers of OG are made of. In the meantime, give them a follow!

Yuragi: https://twitter.com/Yuragii1 ; https://www.instagram.com/yuragi_i/
Biziem: https://twitter.com/bzmdota ; https://www.instagram.com/misterbzm/ 
Ammar_The_F: https://twitter.com/AmmarAlassaf6 ; https://www.instagram.com/ammar_alassaf/ 
Taiga: https://twitter.com/Taigadota ; https://www.instagram.com/taigadota2/ 
Misha: https://twitter.com/dota2misha   ; https://www.instagram.com/mishaogsniper/ 

#DreamOG